Praga
Sugar
PragaSugar is a sweet liquid combination of natural fruit sugars and Stevia. It provides an equally sweet taste and flavour as regular sugar, but without the high calorie content.
PragaSugar is unique. It can be used daily, is safe for diabetics, and has no aftertaste.
Gluten-free
Weight-loss help
Quick-dissolving
Low Glycemic Index of 25
50% lower calorie count than regular sugar
Excellent sweet substitute for regular sugar
Natural supplement for healthy, active lifestyles
Idea for baking, cooking, and for sweetening drinks
A natural health option for children and breastfeeding mothers
Zero HFCS (High Fructose Corn Syrup)
Zero GMOs (Genetically Modified Organisms)
On a low-carb diet, or trying to lose weight? Suffering from diabetes? Breastfeeding? PragaSugar is the natural, healthy choice, suitable for all lifestyles.
PragaSugar is a natural way to improve any cooking, baking or beverages with a low-calorie sweetener, without any aftertaste.
From jams and marmalades to cookies, cakes, and ice creams, and from cocktails to coffee, PragaSugar is a low-calorie, healthy alternative to your favorite sweetener.
Praga
Sugar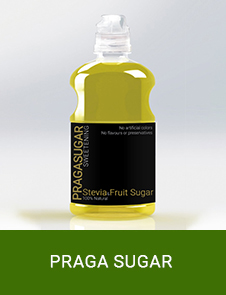 Praga

Sugar

with flavour